Activities and Descriptions
Content and scope
Scope
It is assumed that the Languages and Notations Used to make descriptions and the Foundation of TIMe are known to the reader.
Content
The content is organised as follows:
Description overview which introduces the main descriptions and how they are organised.
Activity overview which introduces the main activities and how they are organised.
Description modules. Here we present the various descriptions as modules with associated operations. They are organised according to the three areas of concern:
Description overview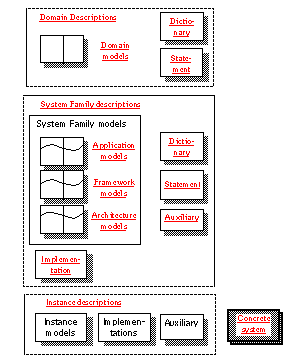 Areas of concern
Goals
These descriptions are necessary and sufficient to achieve central goals of TIMe:
to improve common understanding and communication among the people involved in all areas of concern;
to achieve a controlled process towards quality results;
to achieve flexibility in services and system designs;
to minimise cost and lead times and to increase reuse.
The descriptions have been carefully selected. They are neither too few, nor too many. There is little redundancy, as they describe different aspects and complement each other in a complete, concise and readable documentation. TIMe keeps the amount of temporary (throw away) descriptions to a minimum, and emphasizes descriptions that end up as final documentation. This does not prevent us from identifying partial descriptions that are useful in their own right, such as specifications, and to issue them in separate documents when needed.
Textual explanations
Textual explanations may be attached to models as well as to other descriptions.
Domain
Family
Family models which are object models and property models describing the family on several levels of abstraction:

Applications that describe what the user environment want the system to do (user services).

Frameworks that describe how applications are distributed and supported by an infrastructure. Frameworks and applications together define the complete system behaviour.

Architectures that describe how frameworks and applications are realised in terms of hardware and software nodes.

Family implementations which are implementations of family concepts. Here we find the general parts of implementations that are stable over all instances.
Family statements which are concise statements about the family: its main purposes, its market and qualities.
Family dictionaries which define the family specific terminology.
Auxiliary descriptions which are any other description used, for instance test plans.
Instance
Instance models which define the particular system instance on all abstraction levels. These may be self contained system models, but it is recommended to define instances as configurations of families.
Implementations which are the instance specific implementations such as configuration files.
Auxiliary descriptions which are any other description of the instance, for instance a test suite.
As explained in Objects and properties, models have the facets illustrated in Figure 2. In general there are object models and property models. Seen together they define a context and a content. The context represents the entity being defined (e.g. a system type) as a "black" box and details its environment, while the content details its internal composition in terms of object structures and behaviour.
A specification covers those aspects of a model that are relevant for its external representation and use, while the design cover the internal composition and the internal properties.
The distinction between specifications and designs is not so important in domain models, while in system family models it is important. This has been illustrated for application, framework and architecture models in Figure 1.
A specification covers those aspects of a model that are relevant for its external representation and use. The context part is often sufficient as a specification, but if parts of the content are important it may be included in the specification. Specifications are associated with the abstractions they belong to.
Specifications are partial models
first to express the required properties so they can be verified and validated;
then to synthesise the design in a way that satisfies the specification;
finally to describe its provided properties for later assessment, (re)use, validation and evolution purposes.
Specifications vs design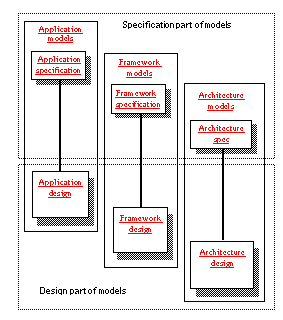 Specifications and designs are often developed in different phases. Specifications are produced early and play a central role in quality and process control. Designs are produced later. Therefore, in a development project they are developed by separate steps as illustrated in Figure 4.
Requirements specification
Specifications should be kept consistent with the properties provided by a design. We foresee that specification are used:
for marketing;
for retrieval;
for validation of applications;
for evolution.
Qualities of specifications
Important qualities of specifications are:
precision and detail;
unambiguity;
traceability and verifiability;
modularity that will support evolution and change.
Context specification
Make a context diagram where the entity being specified is identified and the system environment is detailed. Describe communication interfaces and other relations the entity will handle. <click for context diagram&gt
Do not show everything in the environment, only the parts that are related to the entity being specified.
Content specification
Avoid to state content requirements in specifications unless absolutely necessary and well justified.
Identify the parts that are subject to requirements. Avoid describing more than required.
Use open aggregation to illustrate how entities in the environment are related and connected to components.
&ltClick for example&gt
Development steps
Steps
The descriptions within different areas of concern and on different abstraction levels are developed in steps that help to reduce risk, and to improve quality and control. This help to give better control and also to use the skills of different people better and to run activities in parallel.
Each model is developed in two main steps: first the specification step where the specification part (interfaces and the required properties) is made, and then the synthesis step where the design part is developed.The main development cycles are illustrated in Figure 4.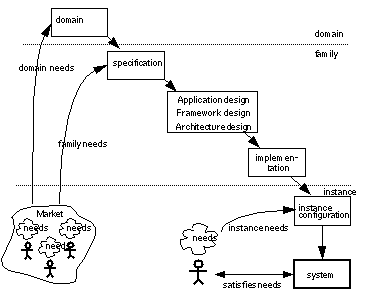 This is of course a simplified illustration of the main steps. Considered over time we will see that the descriptions evolve gradually, that there are many iterations and that changes take place due to better insight, new requirements and new technology. We will also see that there are other, smaller cycles. For instance: to add a new service or feature to an existing product we need not modify the domain. To produce a customized instance we only need to add a new instance configuration.
Not only waterfall
Please do not jump to the conclusion that TIMe only supports the classical "waterfall" model! It is up to the actual projects to determine whether they will adopt a waterfall strategy, a prototyping strategy, use incremental development or whatever.
What TIMe provides is a set of descriptions and some general development activities including strategies and rules, see Figure 7. The activities are described in Activity overview.
A domain is a part of the world where a system instance may be a (partial) solution to some need (the problem).
As a part of the real world the domain may be very large and not well delimited from other parts of the world. Obviously, the domain descriptions cannot describe it all. It is necessary to focus on those parts that are important for the family of systems in consideration. A natural consequence is to consider only a subset of the world that may somehow be served by a family member
The domain consists of physical entities such as persons, cards and doors as well as conceptual entities such as transactions and rules. The entities may be linked by physical connections that enable entities to communicate or by associations.
Important entity classes are:
In general the entities seeks to accomplish some services or transformation processes. Their basic need is to provide these in the best possible way.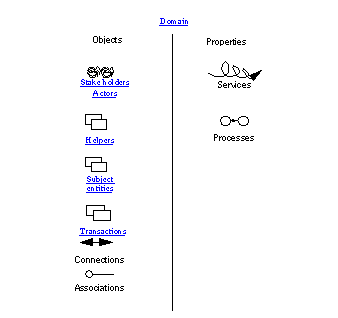 The domain descriptions help to describe and clarify the needs of all the stake holders. Needs may be classified as needs to:
know about entities and relationships, e.g. the identity of users and which doors they are allowed to pass;
communicate among objects, e.g. for two persons to communicate;
transform objects from one form to another, e.g. to peel shrimps, to send a fax or to compile a program;
control something, i.e. to control or manipulate knowledge, transformations and communications, e.g. to control a fax machine.
Difference from systems
The problem domain has a wider scope than any system in the domain, as its focus is on what the systems are (to be) used for, i.e.WHY the systems are needed. Compared to a system context, it should be wider and more general. By studying the whole it is easier to see the purpose of the parts.
Thus, by studying a wider context, it is possible to get a better understanding of WHY the system is needed and what properties it should have. For instance, if the system is a communication system, we may consider why the communication is needed. In what kind of processes is the communication to be used? What are the success criteria for those?
By asking such questions we get a better understanding of the underlying needs and may be able to suggest new solutions. Perhaps the real need is not for a communication system after all? Or, perhaps the need is for a completely new kind of integration between communication and transaction systems?
A problem domain may well be modelled as any other system. Compared to systems in the solution domain there are some differences, however:
The domain will normally include people, so it is a socio-technical system.
The domain need not have well defined interfaces as it is not going to be used as a component.
The domain need not be completely composed or operational to the same degree as systems. It may well be described by many fragments.
The domain avoids system specific solutions.
System independence
The enterprise view in ODP serves the same purpose as the domain here. However, in the domain we do not wish to identify a particular system or system context. We want the domain to be general and independent of particular systems for several reasons:
Open system analysis. We want the domain as a foundation for system analysis. It should not bind the solution but allow us to investigate many alternatives.
Common concepts. We want the domain to describe common concepts and terminology that can help different communities to communicate: users, marketing, development, engineering.
Reuse. We want to identify concepts and properties that will be needed in many different system families, and thereby promote reuse. The domain given parts of systems (see System reference models) contain such reusable parts.
Modelling
In principle, the problem domain can be modelled as a (socio-technical) system, more ore less, like any other system. In practice a more fragmented view, with focus on the needs of various stake holders is more useful. It enables us to describe and to analyse different viewpoints without enforcing the completeness and consistency required in a system model at this stage.
The domain may be described on all three abstraction levels (see Abstractions in models). Normally only the abstract application level is considered and this is what most methods consider as the "domain". It is also what we shall consider the domain unless otherwise stated.
However, it is also possible to describe e.g. the infrastructure domain and the platform domain. Here we may describe common features of infrastructures, say user interfaces, and platforms, say middelware like CORBA [145]. These other domains will end up in other parts of the system such as the interface given parts or the platform.
It is not always obvious what to include in the problem domain. One should avoid system specific solutions, but concentrate on more general concepts and properties that will be common to many systems. For information systems this will typically be types of passive objects (see Active and passive objects) and associations that will be represented in every system in the domain. For instance it is reasonable to believe that every seat reservation system will handle flights, seats and passengers.
System specific solutions should be avoided, but general objects/types and functions performed by (parts of) systems shall be covered.
Domain descriptions are used to define a domain and its terminology. domain descriptions serve three main purposes:
To provide a firm basis for communication and common understanding amongst different Stake holders such as: end users, owners, developers, marketing and production.
To provide a firm basis for product planning, i.e. to analyse needs, to seek possible solutions and to specify the goals for a new product development. In this it is extremely important to consider variability and to plan a system family from the beginning that will cater for the variability. During product planning it is also important to consider existing systems and competition.
To boost productivity and quality by systematically capturing and maintaining common knowledge in one place (possibly at a strategic company level) rather than arbitrarily in various system specific documents. Domain descriptions will hold for many different systems and identify stable, reusable concepts and properties. Components that are derived from them are likely to be quite stable and therefore reusable across systems and system families. The domain given part of the application reference model has been introduced to highlight this aspect, see Domain given.
To establish a common understanding of terminology, phenomena, concepts, and tasks by making domain descriptions (a set of models and a set of rigorous prose specifications).
To describe general objects/types and properties that is common to many systems in the domain and thereby achieve a high degree of reuse.
Domain descriptions contain the following description modules:
Domain statement, Domain dictionary, Domain models and auxiliary domain descriptions.
With Families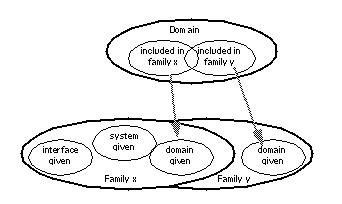 We seek to keep the domain given parts of systems formally related to the domain. These parts may not only contain "data objects" (passive objects), but also active objects. In the end, the domain models should cover all the domain given parts of systems.
Harmonising domain descriptions
Within domain
The various domain descriptions should be harmonised as much as possible with each other: phenomena and concepts in the dictionary should have their counterparts in the domain object model. If properties are properties of entities in the dictionary, then the terminology introduced there should be used in the property models.
Domain harmonisation
Align the domain object model, the property model, the statement and the dictionary with each other. At least define every main term in the statement in the dictionary.
Details will be given for the component descriptions: Domain statement, Domain dictionary, Domain object models and Domain property models.
With family
When system families are introduced, domain descriptions will be harmonised and extended to cover what is common for many systems or system types. Domain descriptions are extended and detailed so that they take domain specific system elements into consideration. The purposes are:
to promote reuse;
to improve traceability;
to simplify maintenance;
to simplify design.
There are two sub-activities:
Reuse analysis: to analyse the design looking for object types and properties that will be common to most systems in the domain. They will then be re-used in system designs (families and system instances):

add new object types and properties to the domain descriptions;

adjust the domain descriptions to correspond as closely as possible with design without introducing system specific details.

Establish links: define the relationships between design and domain descriptions.
What
application;
framework;
architecture;
implementation.
Each level is developed in two main steps: the specification step which emphasises external properties and the design step which emphasises the internal content. The general approach is to work from the application level towards the implementation level and from the specification towards the design within each level.
Note that applications, frameworks, and architectures are somewhat independent and interchangeable. An application may, for instance, fit into several frameworks, and a framework may accommodate several applications. Each may use components that are shared between families.
In most cases a system family is designed to serve one market segment within a domain. As the application level is closest to the market needs, it seems natural that the system family should be defined on the application level. However, to fully generate system instances, we need information provided in the framework, architecture and implementation levels. Therefore these levels must be included when we want to produce concrete system instances. To produce an abstract system instance for simulation purposes, on the other hand, the application level is sufficient.
Types and Families
it would make the family specific to the level (application, framework, architecture) where the type belongs;
it would not capture the component libraries involved;
it would be restricted to what is formally expressible in the languages.
In stead we consider the system family as a more loose organisation (library) of types and other generic entities, which are used to generate system instances within a domain. A system family need not be self contained. It may well import parts from and export to other system families.
When to use
There are cases (one-of-a-kind systems) where a family may seem to be overkill. But even in such cases it appears that most results are generic in the sense that they can be used to produce many similar system instances. They may also contain parts that can be used in different systems. Therefore there is an implicit system family, which is made up by the generic system descriptions that are produced anyhow, even in these cases.
In more interesting cases many instances with a range of different properties shall be produced. In such cases it is desirable to analyse the needs for variability, and to design the family so that instances can be configurated and build as cost effectively as possible. This may require some additional design effort that has to be balanced by savings later on when system instances are configurated and built.
Variability
Variability can be represented in two principally different ways:
By different versions of descriptions. This kind of variability (outside the descriptions) is traditionally handled by configuration management systems, see Software configuration management.
By variable parts in the descriptions, typically by parameters, configuration variables, virtuality. This kind of variability is expressed in the notations and languages we use.
Our main focus here will be on the latter kind of internal variability. It involve all the descriptions in a system family.
The central idea behind the system family concept is that companies will benefit from being more "product oriented". Rather than being driven by the short term goals of individual system deliveries, which is tempting since each system sold give immediate payback, development effort should be invested in lasting results that can generate a better business in the long run. Companies that focus too much on individual systems tend not to have a clear picture of what their products are and how they relate to the market. They often have difficulties in keeping the cost down and to keep schedules. After some time they get trapped in vicious circles where they never have time nor money to improve.
Ideally:
development effort should be invested where the results can be resold many times;
the cost of each adaptation and sale should be as low as possible
The family concept is introduced to achieve these goals and to given an overall cost reduction.
Content of family descriptions
A system family contains the following main description modules:
System family statement - a concise prose statement that characterises systems in the family.
System family dictionary - a dictionary over family specific terminology.
System studies - which are temporary descriptions of alternative system principles made in order to assess alternatives and choose the best
Application models - which define the system behaviour related to user needs.
Framework models - which define additional behaviour needed to support the application.
Architecture models - which define the physical platform and how the framework functionality is implemented.
Family implementations - which contain the implementation details in programming languages and hardware description languages.
Family auxiliary - which contain other descriptions such as methods for evolution and instantiation.
The needs for variability is considered on each abstraction level and for the system family as whole. An important result is a method for binding the variability and configuring system instances.
Another important result is a method for flexible introduction of new services. One main goal is that the method shall lead to a flexible framework and Architecture that will allow us to add new services mainly by working on the application level.
Objectives
System studies are made in order to create deeper understanding of the technical problems and solution possibilities at an early stage. By exploring the "solution space" for a given problem they seek to find innovative solutions that will lead to better systems. "Better" in the sense that the quality is good, that the cost is competitive the solution is flexible for change.
What
System studies are not a special kind of descriptions, but rather incomplete family descriptions that are sufficiently detailed that alternative solutions may be compared and assessed. This means that it must be possible to compare development costs, production costs, risks and potential user satisfaction. It may be necessary to perform prototype developments and laboratory experiments.
Note that system studies involves all the abstraction levels, and builds on the activities described for those. It can be seen as the start of system specification.
The results are system sketches consisting of rough specifications and content outlines. They need not be very detailed, but sufficiently detailed to identify all critical parts and the principle for implementing all services. They should be more detailed where there is uncertainty concerning technology, performance or cost.
Note that the resulting descriptions (for the selected system concept) are not to be thrown away. They are to be gradually elaborated into complete descriptions. However, if well formed, they may later serve as an executive introduction to the system.
Two cases:
Feasibility studies which are performed when a new system family is to be made.
Impact studies which are performed when an existing system family is to be evolved.
System study notations
Do not feel obliged to use only UML in all sketches needed during this activity. It is more important that all possible elements of the system and its environment come forward. Make competing sketches. Have possibly one person responsible for "formalising" these sketches into or UML sketches.
A system instance is a (real system which can perform behaviour and provide services.
The system instance area of concern contains system instances produced from system families. An instance description describes a system instance.
When a system family is defined, a system instance can be defined by reference to a system family using relatively simple configuration statements to binds the variability in the family. If there is no family however, it is necessary to define each system instance completely in self a contained instance description.This can only be recommended for one-of-a-kind developments.
In TIMe, system instance descriptions are organised in:
Instance models that formally define the system instance, usually by configuration of some family;
instance auxiliary descriptions that provide supplementary documentation.
instance implementations which are the instance specific implementations such as configuration files.
Rationale
It is clearly necessary to establish and maintain clear and traceable relationships between the various descriptions and models. There are several reasons:
Since each model or description is concerned with a limited area of concern and abstraction, a complete documentation is made up of a set of interrelated models/descriptions. In order to read and understand this complete documentation it must be possible for a reader to navigate in the descriptions and to understand the relationships as easily as possible.
We need to trace the relationships from required properties to the design objects where they are provided. There are at least, two reasons for this:

quality assurance need to check that every requirement is satisfied;

when a requirement is changed we need to analyse what impact it will have on the design.

We need to ensure consistency both between models and within models. This can be achieved either correctively by comparing models or constructively by ensuring that models are derived according to rules, e.g. by automatically translating from abstract models to implementations.
Relationships
Domain to family relations:

object to object;

property to property.

Family to instance relations:

object to object;

property to property.

Family internal relations:

application to framework relations,

implementation relations,

property to object relations,

specification to design relations,

validity of interfaces,

dictionary, statement and model relationships.

Domain internal relations:

dictionary, statement and model relationships.

Instance internal relations
The precise definition of relationships depend on the languages that are used. They will be elaborated under the various description modules.
Activity overview
General activities
These main activities consists of sub-activities. At the lowest level, sub-activities are seen as tasks (operations) that "belong to" description modules, for instance domain object models. Such tasks will be described under the description modules they belong to.
Specifications and designs have been identified as separate entities in Figure 7 in order to distinguish the specification and design activities. The reader should we aware that this does not imply a separation of the models.
System development is rarely a straight forward process where the optimal solution is found at first attempt. It is more of a trial and error process. By working with a particular solution we often learn how it can be improved or get ideas for radically better solutions. Therefore it is recommended to spend some time investigating the solution space before selecting the system concept to develop. For this purpose we develop System studies which are compared and analysed with respect to cost, technical feasibility and market potential. The most favorable alternative is then selected for further development, if indeed it has sufficient business potential.
Ordering
It is important to note that the activities are not independent, but influence each other in various ways. As an example, a design activity may lead to insight that triggers a change in the domain models. These mutual interactions are not indicated in Figure 7, but will be explained in the text. We have sought to describe the activities in a generic way that can be used in most processes. However, the best way to carry out an activity depends on the actual state of its input descriptions and output descriptions at the time when it is invoked. In order to take this into account, we provide some alternative strategies and activity subcategories.
Activity categories
Make activities which make or synthesise descriptions for the first time, possibly based on other descriptions, e.g. to make SDL process graphs from requirements expressed using MSC.
Evolve activities which perform (incremental) development of existing descriptions. They may either add new properties, e.g. add a new service to existing application models, or change existing properties, e.g. correct errors.
Harmonise activities which ensure that models/descriptions are consistent with each other, e.g. to make the domain dictionary consistent with the domain object models.
We may distinguish two cases:
Developing from scratch, where a new domain and a new system family is developed without any product base to start from. The starting point is just some needs or a product idea.
Developing from existing families where a new system family is developed using existing families as basis. In principle we go through the same steps as when developing from scratch, but now we seek to utilise as much as possible from the existing Families. Design by reuse is a central concern. This case is considered the normal for development of new system families in a company that have used TIMe for some time. Such companies have established extensive domain descriptions and component libraries which are taken into account in all new developments.
Both cases will follow the same overall strategy, but the detailed activities will be different. Normal development will put more emphasis on reuse and adaptation of existing solutions. If, for instance the framework and the architecture is reused from an existing family and only the family is modified, then the effort will be far less than when developing from scratch.
Evolution is caused by new requirements. It may be requirements for new services or service features, it may be requirements for a new platform, or requirements for a new interface. The abstractions and the system reference model we use in TIMe has been chosen with evolution in mind. Areas that are likely to change independently of each other are separated:
Changes in services or user interfaces are defined on the application level. Here the distinction between domain given, system given and interface given parts, help to further isolate changes.
Changes in implementation platform are defined on the architecture and the implementation levels.
Changes in infrastructure are defined on the framework level.
The situation today is characterised by increasing demands for service flexibility. In order to stay ahead of competition, the lead time for specifying and implementing new services must be as short as possible. At the same time, many products must be supported on a range of different platforms. This means that system Families should be designed with flexibility and diversity in mind and supported by tools.
The various evolution activities are dealt with for each description module separately.
The harmonising activities take care of the iterations and feed-back between the various descriptions.
Analysing
Objectives
The objectives of analysing are:
To understand the domain and what users and other stake holders want to achieve, i.e. their needs.
To find improvements they will consider valuable.
To plan new product families that will give valuable improvement and thus create business in the future
What
Analysing is part of product planning which is a more or less, continuous task in any prosperous company. It is constrained by the company's strategic plans and seeks to come up with ideas for new products or enhancements to existing products.
Central to the task is a deep knowledge about a problem domain and existing system solutions. It seeks to identify a problem, i.e. some deficiency or opportunity for improvement, that a new system family may solve. This should not be just any problem, but something that would mean considerable improvement and thus have sufficient value for some stake holders to justify an investment in the new system. Thus the core of the task is to understand needs and find solutions.
The concrete results are domain descriptions, system studies and specifications for system families that may create future businesses. A business is created when a product and a production meets a market. Thus, commercial success depends on more than the product qualities. It also depend on the marketing and the production. Consequently it is recommended to develop the product, the market and the production in parallel.The domain relates clearly to the market, and the instances to production. In this way TIMe supports integrated development of all three areas.
Sub-activities
Analysis consists of two activities:
Analysing domain which produces domain descriptions. The main purpose is to understand what various stake holders want to achieve, not what the product is. The domain descriptions must be sufficiently complete to: achieve common understanding of terminology and concepts; understand the real needs of stake holders, and analyse improvements.
Analysing Requirements which produces:

System studies. These are design studies for alternative system solutions. The idea is to asses the feasibility and the business potential of each and to select the most promising alternative for further development, or to stop further development if no alternative is sufficiently attractive.

System family specifications, i.e. Application specification, Framework specification and Architecture specification which are used as input to designing the family.
Actors
Analysis require multidisciplinary teams. Key personnel are domain experts such as marketing people and real users, but system developers should also participate both to improve their own problem understanding and to help finding improvements. It is a task where experts in the problem domain meets experts in the solution domain and new opportunities arise out of their combined effort.
There may also be existing literature, existing systems and possibly existing domain descriptions to use. Existing systems is an important source. Consider what parts of the domain they cover. Can competitive advantage be gained if we cover more? or less?
What to do
"How can you possibly find the solution if you haven't grasped the problem?" (adapted form a wise saying at Ericsson).
This wisdom tells us that understanding the problem should come first: start by describing and analysing the domain, and go from there towards possible solutions. However, when the domain is well defined and the challenge is to gain competitive edge through innovative solutions, the solution comes first.
Therefore, the strategy will depend on the quality of existing domain descriptions, and whether the challenge lies in the problem or in the solution.
Iterations
Note that domains are not entirely independent of design concepts or technology. New technology enable improvements that were not feasible and perhaps even not imaginable before. For instance: the access control domain was different before cards were introduced than after. Before there were keys, but no need for person identification. After, person identification is a central issue.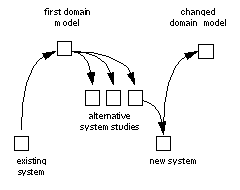 The old solution was traditional keys that were hard coded according to access zones. With new technology it became feasible to use personal cards and PIN codes instead and thereby achieve more flexibility and security. This change led to a changed domain model where person identification and authentication is a central issue.
In order to get a good start with the first domain descriptions it may be a good idea simply to model the current reality first. If the challenge is to reengineer existing systems, then first establish a domain description corresponding to the usage of the existing systems.
When initial understanding of the problem domain is established, the next step is to start looking for improvements in terms of new technologies, innovative system solutions or just better ways to organise work. What are the problems today, and what may be improved? Answering these questions and setting goals for improvement is the soul of product planning and should not be taken lightly.
If the improvements have effect on the domain, then make an new or updated domain description.
When the goals for improvement has been set it is time to start looking for technical principles and solutions. We start by Analysing solutions seeking to come up with alternative system ideas that may be evaluated and compared. How this is to be done depends on the problem, but it will involve making a mixture of object models and property models for the new family (or system instance if it is a one-shot development). These models are called System studies.
In the beginning, these models may be independent of any particular system boundary. In fact it may be a good idea not to identify the system initially, but use the models to analyse what shall be done, and how it may be done. When this is well understood, the next step is to decide what shall be done by the system, and what shall be done by the environment.
The result will be a number of alternative product outlines that may be analysed with respect to technical feasibility, risks, cost and schedules.
Finally, the most promising system concept is selected among the alternatives, and a go/no-go decision is made based on business criteria, available resources and schedules. If it is go, then a specification is developed.
A major goal for analysing is to decide what parts of a problem domain to include or support by a new product. Obviously the domain analysis should be more detailed for those parts. Therefore there is a mutual influence between domain analysis and solution analysis.
Strategies
We define two main strategies: analysing from scratch and analysing from existing domain.
If the problem domain is new or the quality of existing domain descriptions low the following strategy can be used.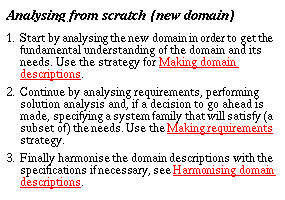 It is quite normal that domain models and system family models influence each other. Therefore it may be a good strategy to start analysing solutions before the domain models are completed.
Analysing from existing domain
If the problem domain is well described, and the main challenge is to find new technical solutions, then the following strategy is recommended.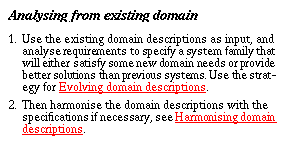 Objectives
We perform domain analysis in order to:
understand the domain and make domain descriptions;
analyse the domain seeking improvements of value for the stake holders;
evolve and harmonise the domain descriptions.
What
Domain analysis is primarily concerned with the problem domain. In addition to general knowledge of the problem domain, knowledge about existing systems is important. It is important to identify the strong and the weak sides of existing solutions. It may be useful to first model the existing domain including existing systems, and then look for ways the domain may be improved. As a result a future domain may be described. If systems are used in different markets for different purposes, several domains may be described.
Sub-activities
We perform domain analysis by means of the following sub-activities:
Actors
The people to involve are stake holders in the domain such as users and other actors, market people and other domain experts.
What to do
Which sub-activity to start with will be a matter of choice. For a new domain it is recommended to start with the domain statement and the dictionary, and continue with the object models and the property models. For an existing domain, it may be better to start with object and property models. In both cases there will be iterations between domain descriptions and design descriptions.
In this activity we seek to define a domain for the first time. The main purpose is to understand the domain in terms of concepts, objects and relationships and to understand the needs that various stake holders have (the problem). We have no existing system family to consider (but there may be other existing systems in the domain).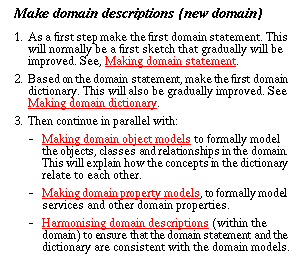 Work on the object and property models will normally lead to clarification and more complete understanding which should be used to improve the dictionary and domain statement.
Here the purpose is to analyse and improve existing domain descriptions. A typical reason may be that we have revealed imperfections or are looking for improvements that will lead to a new and better domain description or that we need to add details. This will typically be the case when we plan new products in an existing domain. The strategy will depend on the circumstances, but since we already have a domain statement and a dictionary, it may be a good idea to start with the formal models in this case.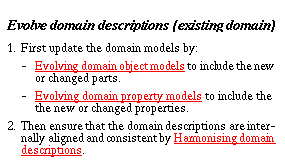 Summary of dynamic domain rules
Domain modelling approach
Establish contact with domain experts and other sources of information about the domain.
Present your results and have frequent discussions with domain experts.
Do not use too much time on problem domain analysis if experiences with making systems in the domain are poor. Iterate with system analysis and possibly system design.
Study existing systems, and make use of existing descriptions and literature about the problem domain.
Iterate with requirements analysis to explore new solutions and to find ways to improve the problem domain. (Remember that some problems may go away, and new opportunities be opened, when new ways are found. E.g. with personal cards, lost keys are not a problem any more.)
Finding domain objects
A problem domain may be very comprehensive. Do not try to model everything that might be considered part of the domain in some wide sense. Concentrate on parts that may be supported by new products.
As a start, consider how things are done today and describe the existing domain. Then consider how it may be improved and develop a new domain description.
Focus on abstract objects that are essentially needed and avoid system specific solutions. This does not exclude elements that eventually will be part of systems. The essential thing is that the problem domain generalises over system specific solutions. Classes of objects coming from an analysis of the problem domain are candidates for reuse across systems, but reuse requires at least one use.
When systems are defined, use the Application reference model to classify the entities into interface, system, and domain specific parts. Generalisations of the domain specific entities should be included in the problem domain.
Model the actors
Be sure to represent each type of stake holder in the domain statement, dictionary and object model.
For each stake holder, describe their needs for services and interfaces.
Represent every actor as a type with context in the object model and describe its services in property models.
Objectives
Analysing requirements is performed in order to analyse needs and to develop specifications. Not just any specifications, but specifications for system Families with a business potential. domain descriptions where needs for improvement are identified is a good starting point for this activity.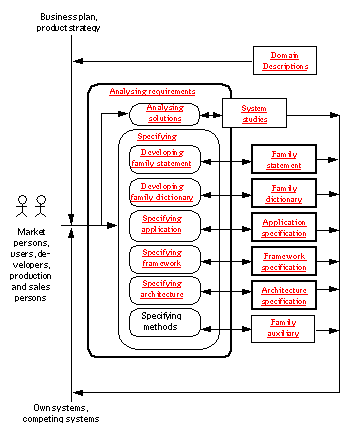 The activity is crucial for the success of a system family as it seeks to answer questions like:
what parts of the problem domain should be supported by the system family;
what should be the environment and the interfaces of the system family;
what should be the positioning properties and the duty properties of the system family;
what should be the main technological principles;
what are the requirements to future instantiation and evolution.
What
A central issue is to balance the needs against technical feasibility and cost. To this end, system studies are made where alternative system concept can be evaluated and compared. (These may be seen as mini developments.) If any of the alternatives seems feasible and attractive from a business viewpoint, the best is chosen for further development.
For the selected concept a specification is produced.
It is of course possible to make specifications without (explicitly) analysing the domain and analysing solutions first, but it will be more difficult. Parts of these activities will then have to be done implicitly in the specification activity. With explicit domain descriptions and system studies, the goals for the system development are known, and the task of specification is to express them precisely and detailed.
Actors
Developers, market persons, and stake holders in the domain should all participate. Go/no-go decisions will of course involve management.
What to do
The first thing to do is to make system studies seeking for a viable overall system concept. If such a concept is found the next step is to develop a system family statement and start on a dictionary, and then to develop specifications.
When making requirements for the first time, we assume there are domain descriptions to use as input, but there is no existing family (apart from those that other companies might have on the market).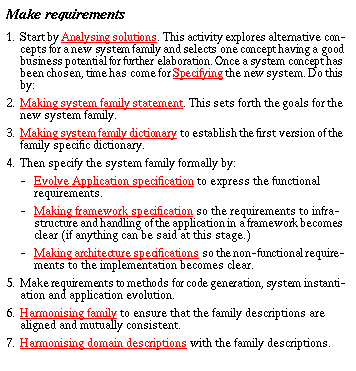 In this case we have existing system family descriptions to start from. We assume the reason for evolution is that some external requirements have been added or changed. (Changes caused by internal iterations are handled by harmonising) In this case too, we start with the formal specifications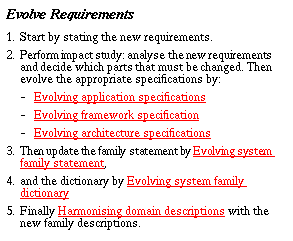 Summary of dynamic requirements rules
Requirements analysis approach
This is a creative activity, so creative techniques such as brain storming may prove useful.
At an early stage do not be afraid of unconventional solutions. On the contrary, look for them.
Remember that the purpose is to find a new and better way to satisfy the needs of stake holders. Therefore, close interaction with stake holders and domain modelling is strongly recommended.
The main purpose is not to find design solutions, but to determine the external properties and interfaces, in particular which services the system are going to provide. Therefore the focus should be on context, and not content.
Elaborate content only where this is necessary to assess the feasibility or to estimate cost an risk. Be prepared to reconsider content that is sketched at this stage.
Use prototyping when this is cost effective, i.e. when the additional cost of a prototype is justified by improved communication, decision making and/or reduced risk.
Initial requirements
What
The purpose of analysing solutions is too consider the needs and how they may be satisfied. It is an interplay between the what and the how.
Inputs to the activity are needs and domain descriptions. Central decisions to be made are what needs to satisfy, in particular which services to provide, and what technology to use.
The activity is the first step in turning needs into solutions. It can consist of many mini-development projects with the purpose of exploring alternative solutions. The activity may therefore produce a number of alternative system Sketches. The detailing of these sketches depends upon the knowledge about the desired system and the risks involved.
Feasibility study
For each system concept:
Selecting services to support.
Sketching the environment.
Sketching the application.
Sketching the architecture.
Identification of and assessment of risk and critical issues.
Assessing cost and schedules.
Evolution and maintenance.
When some promising alternatives have been sketched they shall be compared and the best selected. This forms the input to make family statement and Make Specifications.
What
The main inputs to this activity are informal statements about needs, the domain descriptions and system Studies.
Outputs are precise specifications expressed on the relevant abstraction levels. The focus is on properties and context. The challenge is to structure the input information, find missing detail and organise the specification. Clarifications and iterations will be needed.
Actors
Specifications are developed by development persons in close cooperation with users and other stake holders. System and market departments should also take part, if not in the detailed work, at least in major decisions.
What to do
Turning needs into specifications is not always straight forward. On one hand it is necessary to clarify the needs in order to make the specifications sufficiently precise and detailed. On the other hand it is necessary to consider technical feasibility, economy and schedules. Finally it is necessary to consider how each particular requirement will interact with other requirements. An iterative process is required where users and other stake holders take actively part.
It is assumed here that specification is proceeded by system studies where an overall system concept has been selected. It is clear roughly what parts of the domain that shall be covered by the system family, and what properties it shall have. The goal is to state this more precisely and with more detail.
For a general approach to making specifications more precise and detailed, see The dialectics of refinement.
When specifications are developed for the first time, the following strategy may be used.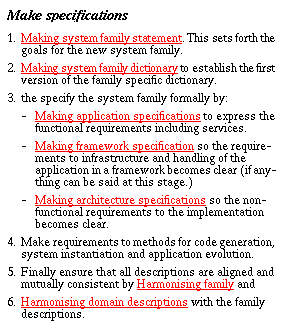 When new requirements lead to changes in specifications, follow this strategy: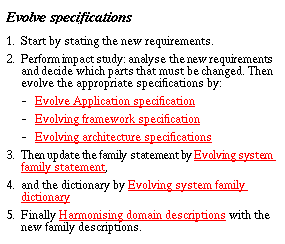 Summary of dynamic specification rules
Incremental specifications
In order to achieve flexibility in the development process and the product, try to make the specifications modular so it is as easy as possible to add or change specifications.
If flexibility is important, express this as clearly as possible in the specification (in the Auxiliary descriptions, in the statement or in textual annotations to the models).
State clearly the requirements to methods for (incremental) evolution, code generation and instantiation.
Designing
What
The main outputs are the corresponding design models: Application design, Framework design and Designing architecture. In addition one should consider how implementations shall be generated, how instances shall be produced and how evolution is to be done, in particular how services shall be added. This is described as part of the Family auxiliary descriptions.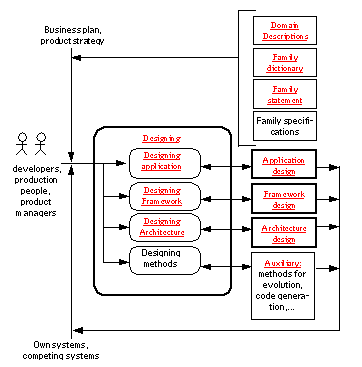 Designing is not a monolithic activity. It is composed from activities that each require considerable effort, especially when developing from scratch:
Implementing
Concrete system
Concrete systems consist of:
The application and the framework software. State-of-the-art tools allow this software to be automatically derived.
Special application and framework hardware. This will be special hardware designed to perform part of the application or the framework.
The platform, which consists of:

the support software which normally is a layered structure containing operating systems, middleware for distribution support, SDL runtime systems, DBMS and interface support;

the general hardware which normally is an network of computers.
What to do
For every new system development, the platform is an important design issue, as it determines important properties such as cost, reliability and flexibility. It also influences the way that applications and frameworks are implemented.
Figure 13 illustrate some aspects of implementations. Note that the code generated from application frameworks will interface with code coming from different sources. To produce a concrete system these various parts of code must be linked together and loaded on the the hardware.
Once the platform and the code generation strategy is defined, it is possible to rely on automatic code generation for application and framework evolution for those parts where SDL is used. The code which is generated for the application and the framework must be adapted somehow to the platform. Here the Vendors of code generators use two different strategies. One is to adapt the code generator so the generated code fits the platform. Another is to adapt the generated code to fit different platforms by means of interface modules and/or macros.
It should be noted that even if automatic code generation is used, there is likely to be some hand generated code (e.g. for input/output drivers) and possibly legacy code from existing solutions. It may also happen that different parts are generated using different tools, e.g. SDL tools for the control parts and UML tools for database parts.
Consequently there are many issues to consider, and many tool problems to solve before the implementation activity is well defined for a new system family. However, once defined it may be used over and over again to produce new implementations.
Instantiating
In the instance area of concern, the main thing is to configurate and to build a system instance. This can be done both on the abstract level, using SDL, in the implementation architecture, and in the implementation. The common practice in most companies is to do this on the implementation level using configuration files and tools like Make. An alternative is to use special configuration languages in this area.
Objective
System instances are what companies sell and customers buy. The purpose of instantiation is to produce system instances from family descriptions and instance configuration descriptions.
What
In the instance area of concern, the main thing is to configurate and to build system instances. Ideally we should perform configuration at the level where it belongs: functionality at the application and/or framework levels, and implementation at the architecture and/or implementation levels.
It is possible to perform some configuration at the application and framework levels using SDL, but due to limitations in the language, this is restricted.
The common practice in most companies today is therefore to do configuration on the implementation level using configuration files and tools like Make. (An alternative is to use special configuration languages.)
We recommend that a method for configuration and building of system instances is defined as part of the architecture design work.
Domain statement
Objective
What
It will normally be sufficient to express the domain statement informally using natural language and drawings, but one should try to be as clear and precise as possible.
The domain statement can often be based on existing prose descriptions. There may be descriptions of earlier systems, there may be textbooks on the subject and there may be informal statements about the system.
The domain statement may also contain required properties if these exist at this point of time, but for an initial development of a new system these may be vague or non-existing.
Executive summary
This should be a very brief summary with focus on the key issues. It may well be written in a style directly suitable for market purposes. Stake holders in the domain should immediately recognise and accept the description.
Area of concern/context
High level description of the area of concern or the context of the domain. E.g. the interbank financial market, the security in buildings area.
Stake holders
Stake holders are persons or institutions with direct or indirect interest in the domain: companies, users, operators, owners, etc. The various stake holders have responsibilities and tasks to perform that give rise to needs. Therefore the domain statement should mention every class of stake holders, their overall objectives, needs and responsibilities. The Actors are of course important, but do not forget other stake holders that have a more indirect interest (often economic), e.g. managers or owners.
Subject entities
These are all the entities that are manipulated, represented or controlled in the domain:
Passive entities that need to be represented as data, and their associations.
Manipulated entities that are transformed or handled in the domain; such as, materials, commodities, assets.
Controlled entities, such as some machinery, that are under control by other entities in the domain.
Be sure to mention every category of subject entities and explain their role in the domain.
Helpers
These are the entities that are used by the actors to perform services and transformation processes. Be careful not to make the helpers too system specific. Try to capture the general features needed irrespective of particular systems.
Services
List all the main functions, their purpose, which objects that collaborate and describe how they are performed in terms of textual use cases.
Work processes and materials
If the domain contains non-trivial transformations, describe each transformation stating its inputs, outputs and constraints. This is particularly useful for material transformation processes, e.g. to pick potatoes or peel scrimps.
Rules and principles
State general rules and principles that apply to the domain as a whole or to specific parts of the domain.
Trends
If there are trends in how the domain will develop: describe them.
Existing systems
Brief summary of systems that are common to use in the domain, their strengths and weaknesses.
Problems - improvements needed
Identification of problems or shortcomings that need to be solved.
Domain statement relationships
Within domain
Every domain term used in the domain statement shall be defined in the dictionary.
Every type of actor and entity shall be represented in the object models under the same name as in the statement.
Every service and transformation shall be represented in the property models under the same name as in the statement
With family
No particular constraints.
Make sure the relationships with other domain descriptions are satisfied. Make an entry in the dictionary for every domain specific term . Important objects, classes, relationships and properties in the domain models shall be mentioned in the statement.
Objective
What
The source information will normally be fragmented, informal and imprecise by e.g. not using the same terminology or by stating the same required property twice, but with a slight difference. It may also be unbalanced in its coverage of essential versus not so essential information. This activity, together with the one making the dictionary, shall transform these informal specifications to a more precise, yet informal, specification, where the essential parts are emphasised.
Actors
As for the domain at large.
This activity may well be subdivided according to the topics of a domain statement, for instance like this: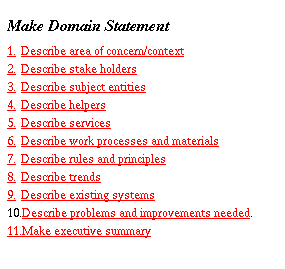 This part is best written after the other parts of the domain statement. Consider what is the essential message of the problem domain descriptions. Express it in a way everybody can understand. Make it short (half a page).
Describe area of concern/context
Try to state concisely what the area of concern is about and what its environment is.
Ask yourself who has an interest in this domain? Try to identify every type of stake holder/person-role in the domain and describe their overall responsibilities and tasks. Note down what kind of problems they have and what kind of improvements they would consider valuable.
Try to identify all passive entities (including the stake holders), manipulated entities and controlled entities. Explain their roles in the domain and how they are connected and related to each other. Do they communicate? How? Consider only entities and associations that are relevant to some services or work processes in the domain.
Are any helpers needed to perform the services? Try to abstract from particular system solutions and identify the general features needed. Note that the helpers are likely candidates for improvement. If it is very difficult to generalise, then describe the existing helpers, and consider improvements afterwards.
List all services (functions) needed and give a concise description of what each does. Again it it important to abstract as much as possible from how services are implemented in existing systems. Try to focus on what essentially needs to be done.
Describe work processes and materials
For each material transformation, give a concise description of what it does. What are the inputs and the outputs? What are the sub-transformations? What are the constraints? Note that the purpose is not to describe technical solutions, but to clarify the goals.
Rules that regulate the problem domain should be referenced, as should general principles. You will have to consult domain experts to find out about these issues. Be aware that law may severely constrain the technical solutions that are available, as well as it may create new business opportunities.
Important trends regarding functionality, work processes, regulations and technology should be stated.
The purpose here is to briefly explain the main features of existing systems with emphasis on their strong and weak points. Consider also the competition here. This will help to identify duty bound and success properties for new products.
Describe problems and improvements needed
Analyse the domain described so far and try to identify the problems with existing solutions and how they may be improved. Interviews with domain Actors and other stake holders will be important here.
When new insight or new requirements leads to a modification of the domain descriptions, then the domain statement shall be updated accordingly. This activity follows from other activities in domain analysis or solution analysis.
Note that the domain shall be relatively stable compared to the system solutions. It shall not be updated so often. However, a new domain is likely to be updated more frequently than a well established one.
Summary of dynamic domain statement rules
Consistent domain statement
Check that the terminology is internally consistent, using the same terms for the same entities throughout the statement.
Check that the statement is unambiguous, that each term has only one meaning.
Maintainable domain statement
Check that the statement is maintainable. i.e. modular and without redundancy that makes it difficult to maintain.
Domain dictionary
Objective
common use of terminology;
improved communication and coordination;
common understanding.
What
A dictionary is a reference book listing words or terms and giving information about a particular subject or activity (Collins 86).
A dictionary in TIMe need not be a book, but it shall contain a list of terms with an explanation of their meaning.
An informal Domain statement is normally not sufficient. We will need a more precise definition of the most important phenomena and concepts and the corresponding terminology. We therefore improve our understanding by listing the concepts in a dictionary. For some domains, dictionaries are readily available, but for other areas, an important task is to define one.
A dictionary is based upon the three aspects of concepts: designation, intention and extension. The designation is the entry in the dictionary and the explaining text is a description of the properties that phenomena shall have in order to belong to this concept. The extension are all the phenomena covered by the concept.
Producing a dictionary adds to the understanding of the subject being analysed. Furthermore, it will help people to communicate more precisely. A dictionary helps to bridge the gap between people with specific knowledge of the application area and people new to the area. Later in the development the concepts in the dictionary will often find their way into the system description as types (of objects). We suggest that the dictionary should be maintained along with the other permanent documents.
Be aware of the difference between concepts and sets. A set has cardinality, and a given entity may or may not be member of the set. A concept is not a set of phenomena, but just a definition of the properties of the corresponding phenomena. This should be reflected in the wording of the dictionary - the reason is that the domain may have real sets.
The dictionary may simply be an alphabetic list of terms with informal explanation. All terms used in the problem domain should be included, such as :
terms for phenomena and concepts;
terms for entities;
terms for properties;
terms for services;
terms for relationships;
terms for connections and interfaces;
terms for processes;
terms for roles in particular human roles like users, operators etc.;
terms for materials.
Within domain
There is a more or less direct road from a dictionary to an object model. Concepts are represented by classes: the name of the class corresponds to the designation and the class definition to the intention of the concept. objects according to the class represent the extension. Therefore the names used for object types shall be the same as the name used for the corresponding concept in the dictionary.
With family
The domain given terminology used in Families shall be the same as in the domain dictionary. It is possible to define additional terminology in separate Family dictionaries.
Within domain
With family
Ensure that the general domain terminology is applied in the Families. If family specific Dictionaries are developed, they should refer to the domain dictionary for all domain given terminology and avoid redundant definitions (which may develop into inconsistent definitions).
Summary of static domain dictionary rules
Domain dictionary entries
Represent each essential problem domain phenomena and concept by an entry in the dictionary.
For entries in the dictionary that correspond to concepts that will be represented directly by types (classes), it may be a good idea (if this is known) to use the same name on the type as the designation of the concepts.
Update d domain dictionary
Keep the dictionary updated throughout the development. If desired classify the entries as coming from analysis or design, domain, environment or system. This may help in updating the dictionary and also to answer questions like "Is this phenomenon covered by the domain of the system?" or "Is this type of entity handled by the system?"
Domain specialisation hierarchies
For each concept in the dictionary (and the corresponding Developing domain object models), ask whether all the objects that fall within the extension of the concept/class have the same properties. If they have not, find specialisations, which may or may not extend the dictionary. During the specialisation, extend the description in the dictionary with properties which add to the understanding of the concept.
Objective
What
The activity makes an entry in the dictionary for each term in problem domain.
In general, the dictionary comes from the other domain Descriptions, as its purpose is to define the terminology used there. Thus, the dictionary is developed more as a spin-off from making the other descriptions, than as an independent activity.
When object models and property models are developed, the dictionary should cover all the objects/types, associations and properties represented in those models.
Actors
Same as for domain Analysis at large.
The dictionary is made for the first time as part of the first domain analysis, see: Making domain descriptions.
The first dictionary comes from a (prose) Domain statement. By studying the nouns in the Domain statement we can make the initial dictionary. But the dictionary shall contain more than the nouns, it shall also include services or functions and associations which may be visible in the domain statement as verbs.
A practical approach is to analyse the text of the domain statement and mark every term that refer to a domain specific concept or phenomena.
For each term thus marked, make an entry in the dictionary which define the term.
editorial
should the dictionary be organised in some way? e.g. according to the domain statement categories, according to the kind of entity (concept, property, entity, relationship, service)
should the dictionary contain references to object models and property models?
The dictionary is evolved as part of the evolution of domain Descriptions, see Evolving domain descriptions. Changes may be due to evolution of the domain statement as well as the domain models. Whenever existing terms are modified or new terms are introduced in any of the other domain Descriptions, the dictionary should follow up.
Summary of dynamic domain dictionary rules
Finding domain dictionary entries
Develop the dictionary as a consequence of other domain descriptions.
Use the dictionary actively as a source of terminology when making the other domain descriptions.
Do not add new terms to any model without checking that there is no appropriate term in the dictionary already.
Analyse each entry checking that it is precisely and unambiguously defined. Look for similarities among entries. Avoid to use the same term for different things, and to use different terms for the same thing. If necessary define synonyms explicitly. Clarify relationships between related entries, e.g. subtype relationships.
Domain models
Objective
The purposes of domain models are:
To describe formally how objects and properties in the domain are related.
To define generic types that may be used in many system families and system instances serving the domain.
What
Domain models will mostly be application abstractions. But the possibility to model more concrete aspects (e.g. infrastructure and platform) will not be excluded. It may for instance be useful to model various technical solutions which are common for the problem domain. It is perfectly relevant to make more concrete object models whenever there are concrete matters in the domain needing to be described, e.g. physical materials, concrete interfaces. Implementations are not part of domain models.
Objectives
Domain object models serve:
To improve understanding and communication by rigorously describing how concepts and objects in the domain are related.
To give a more precise meaning to terms in the Domain dictionary.
To clarify the basic needs existing in the domain.
To promote reuse by describing objects and classes that are common to most systems in the domain.
What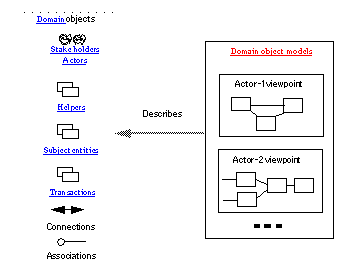 Domain object models will describe active objects as well as passive objects.
Active and passive objects
Objects of the real world are by nature active. They interact with other objects and have a dynamic behaviour. When we consider the domain as a part of the real world, all objects are potentially active. However, we do not need to model them all as active objects in the domain models. Some may be active, some may be passive and some may be both. This is a decision we make in the models.
At some stage we must decide the level of detail and the kind of behaviour we will specify for each object type. For active objects, we specify a "real" behaviour, whereas for passive objects we specify a "data" behaviour which is very different from the "real" behaviour. Considered as an active object an AccessPoint in the Access Control domain have a reactive behaviour that interact with real users. As a passive object, represented in the validation database, is has a simpler behaviour that responds to validation queries.
Normally there will be only one active object representation of a domain entity, but there may be several passive object representations. The behaviour, the attributes and the context may be very different in each case. Therefore we may need to develop one active and several passive component models representing the same domain entity.
The advantage of the object models over prose descriptions are that they show the relationships between objects in a rigorous way, and that they use a graphical notation.
The domain object model is not only made in order to get a better understanding of the domain. It is also made to identify types that are common to all systems in the domain. It is a goal to describe at least every object type that will be part of the domain given parts of systems and system environments. It may be difficult to find all of those without considering any system. It will normally help to study existing systems, and also to work on the new system design. Consequently, when complete, the domain object models will be influenced by existing systems as well as the design of new ones.
However domain object models may well include more objects than those that will eventually be in systems or system environments. They should also describe related objects that are important for the purpose of systems in the domain.
Components for reuse are supposed to be identified in this activity, and correspondingly components identified in earlier domain object models are used here. Classes of objects that are identified as belonging to the problem domain will have more chances for being reused in other systems than classes being made in the design of a specific system. Types (classes) identified in the domain object model are therefore supposed to be made as general as possible, and there may even be sub-activities that have this as their main purposes: to prepare for reuse. Apart from this, TIMe believes in the fact that reuse comes after a successful first use.
Since the domain as we consider it, is a generalisation it may be modelled as a type (in SDL) or a class (in UML). It will normally contain components that are defined with reference to other types (SDL) or classes (UML), see Anatomy of object models. In most cases these component types are more useful than the domain model itself.
There are several reasons for this:
In many cases the domain is not well defined enough or contains too much variability to capture in a single model. A collection of component types is less restrictive and more flexible. They provide more information than can be said in a single model.
Within the domain there will be many different views that we need to understand and reconcile, e.g. the views of different actors. Component types offer a formal way to describe the relative views of each component type through its context expressions.
Reuse will be in terms of component types and not complete domain models.
For this reason we recommend the following rule
Make component type models
Make a type model showing the context and content of each actor, helper and subject entity.
In order to get a better overview, one should try to put the components together in complete or partial domain models where possible. A useful compromise may be to develop several viewpoint models.
Consequently, domain object models will normally contain two main parts:
Domain structures which give a structural overview of the domain representing all objects, connections and associations. It may be a single model, or it may be composed from several viewpoint models. In the case of a single model, the entire domain is viewed from the same angle (somewhere "above" the domain), see Figure 17. In the case of viewpoint models the domain is seen from different angles (from some "side"). Viewpoint models may be simpler to make since they may discard aspects that are not relevant from that angle. At the same they allow us to make the differences between different viewpoints more clear. UML supports veiwpoints by using Packages, while UML supports viewpoints through the Module concept.
Component type models which define each component type (class) separately with context and associated properties. These models serve to give the relative views that each component type has on the domain, see Figure 18.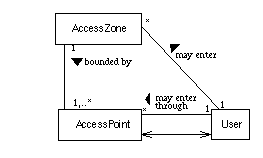 Domain object modelling belongs to a subset of more general object modelling. Object models can be described using either UML or SDL, depending on whether they are domain or design object models and depending on the formality needed.
Domain object model languages and notations
Object models are expressed using UML or SDL. It should be noted that UML is made primarily for passive objects, while SDL are for active objects. For purely passive objects, pure UML is sufficient.
Domain object notations
Use SDL for abstract component models where (concurrent) state transition behaviour is central. If associations and passive objects are important as well, make supplementary models in UML. Use:

Block types where there are concurrent behaviours;

Process types where there is only sequential behaviour.

Use UML for component models where associations are central and state transition behaviour less central.
Use UML for structure models where the nature of components are association heavy or unknown.
Use UML or for concrete models.
Domain object models are abstract models unless otherwise stated. They are abstract in two senses:
they model the world without considering the physical details of entities;
they model parts that will be realised in systems without going into system specific detail.
The abstract models will normally concentrate on the application abstraction, and only consider infrastructure in special cases where the infrastructure is general for the domain. Frameworks are normally not considered as they belong to the family area.
application:
At this level we find the bulk of domain object models. Every actor, helper and subject entity should be represented in a component model.
In addition the domain structure may be represented in a number of viewpoint models or in a single model.
Infrastructure
This level will consist of component models for infrastructure components that are common to the entire domain. System and family specific components should not be included.
Make component type models
Make a type model showing the context and content of each actor, helper and subject entity.
Implementationarchchitecture
At this level we find models for platform components that are general for the entire domain.
models at this level are only made if the domain is about platforms, or if the platform is standard for the domain.
Domain object model relationships
Within domain
Every object type shall be mentioned in the dictionary under the same name.
Every object type shall have associated property models.
Object models refer to properties through service names and role names.
The association between objects and properties are maintained through service names and role names.
The functional properties specified for an object shall be satisfied by the object behaviour, i.e. be a proper and valid projection.
The behaviour of every object type shall be strongly input consistent in every role.
Every object instance shall be valid in all assigned roles.
With Design
Domain given design objects shall be related to domain object through inheritance or implementation relations.
Harmonising domain object models
In this case the domain object model is harmonised within the domain and with design.
Within domain
Ensure that the rules for domain internal relationships are correctly maintained:
Every type name shall be defined in the dictionary.
Every object type shall have associated property models.
With Design
Ensure that the rules for Design relationships are correctly maintained:
Every domain given object in design shall be related to an object type in the domain object models. The relationship shall either be pure inheritance or an implementation relation.
Summary of static domain object model rules
Use the general rules for object modelling and the following special rules:
Make component type models
Make a type model showing the context and content of each actor, helper and subject entity.
Domain object notations
Use SDL for abstract component models where (concurrent) state transition behaviour is central. If associations and passive objects are important as well, make supplementary models in UML. Use:

Block types where there are concurrent behaviours;

Process types where there is only sequential behaviour.

Use UML for component models where associations are central and state transition behaviour less central.
Use UML for structure models where the nature of components are association heavy or unknown.
Use UML for concrete models.
Make separate object models for active and passive objects?
Objectives
To improve understanding and communication about the domain by rigorously describing the properties applying to domain objects, services and interfaces.
What
Functional properties are considered as projections of object behaviour, and described using text, role structures and MSC, see Figure 14.
Text is used to give a textual explanation of a service or interface. Role structures are UML instance diagrams that represents the roles of the service or the interface. The objects in role structure diagrams can be considered as anonymous objects. They will be related to object model objects by role association links, and to the instances in the service MSCs through the same name.
When the system is designed, the domain property models will also be valid property models of the corresponding (domain specific) system objects. Properties belonging to the domain will be candidates for properties of several system in the domain.
It is an implicit assumption that models of the domain will not cover design dependent properties. Such properties will be added in design models. However, the domain may well cover concrete properties as long as they are general for the domain and not specific to particular systems or families. Domain properties shall be related to domain objects if they can, but it is allowed to describe properties without reference to objects. One example is roles where the actor objects are unknown or irrelevant in the domain. Another example is general properties applying to the domain at large. property descriptions will typically be quite fragmented.
Application:
Services: Text, role structure diagram and UseCases in MSC.
Interfaces: Text, Role structure diagram and Use Cases in MSC.
General properties: safety, liveness, user friendliness etc.
Infrastructure
Services: as above.
Interfaces: as above.
General properties: as above.
Property modularity
Make property models that are as self contained and independent of other properties as possible.
Motivation: to enable property (service) flexibility through modular property composition.
Application implementation
General constraints and requirements that are common to the domain:
reliability, safety, modularity, performance, size, technology.
Platform
As above.
Other
About general properties of the environment, materials, processes, etc.
Domain property model relationships
Within domain
Every service shall be mentioned in the dictionary.
The MSC instances shall represent either service roles or interface roles.
Object models shall refer to properties through service names and role names.
With Design
Interfaces of domain given design objects shall be an implementation of the corresponding domain interfaces.
Services of domain given design objects shall be implementations of the corresponding domain services.
Harmonising domain property models
Within domain
Ensure that every service mentioned in the dictionary and statement has an entry in the service lists and corresponding MSCs.
With design
Summary of static domain property model rules
Property modularity
Make property models that are as self contained and independent of other properties as possible.
Motivation: to enable property (service) flexibility through modular property composition.
Objective
The goal is to make domain object models and domain property models and to keep them aligned and in harmony with other descriptions.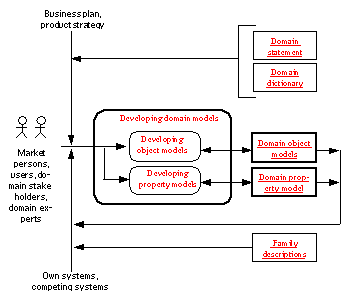 The main inputs are domain knowledge that come from people, and general domain knowledge that can be found in the literature. The domain statement and the domain dictionary give important input too. When a system family has been defined, it may influence the domain models. The outputs are the domain object models and the domain property models.
What
This activity is composed from two sub-activities:
Summary of static domain model rules
Switch between object modelling and property modelling, as each of these activities may contribute to the other. Object modelling and property modelling go hand in hand.
Developing domain object models
Objectives
to make and evolve Domain object models;
to analyse the models looking for improvements;
to keep the models updated and in harmony with other descriptions.
What
The main inputs to this activity are existing domain object models (if any) the Domain statement and the Domain dictionary supplemented by domain knowledge and the Domain property models. It is also influenced by existing systems and the design of new ones.
As explained in Domain object models, it is possible to model the domain as a single structure, but we recommend to develop viewpoint models and component type models as well. In a single domain structure it is not so easy to distinguish between active and passive objects. Therefore we may start to develop the domain structure without considering whether objects are active or passive. In viewpoint models we are more likely to see differences, and in the component models we must be clear about it. The following guidelines help to identify active and passive objects:
Active and passive domain objects
Use connections primarily to link active objects. Therefore objects with connections attached will be active.
Use relations/associations primarily for constructive relations. Therefore objects participating in relations/associations are likely to be represented by passive objects.
It follows that objects with both connections and relations will have both an active and a passive representations in the models
As an example consider the user of the Access control system, see Figure "The access control domain". The model indicates that there will be two user concepts: active users seeking services, and passive users representing those that are valid users in the domain.
What to do?
In this case we have no existing object model or property model, only a first domain statement and a domain dictionary. The task is to develop the first domain object model.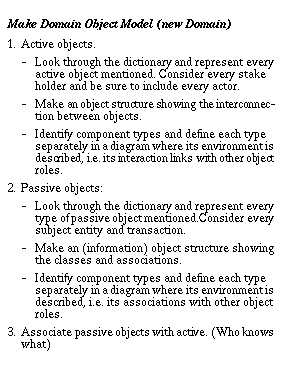 In all steps above, variability, generalisation and specialisation should be considered.
Using this strategy it is natural to develop two models, an active object model and a passive (information) object model. Here the active model will map to active (domain given) objects in the systems while the passive will map to known entities represented by passive (domain given) objects in the systems.
An alternative is to combine active and passive objects in the same models.
In this case an existing domain object model is evolved to take new domain knowledge or requirements into account. Inputs are the existing models and knowledge about the changes to be made. The reasons for change are either:
an extension of the domain;
some new services to be added;
a restructuring due to better insight;
some major changes in the system technology (such as replacing mechanical keys by magnetic cards).
Note that updates due to system design normally is handled in the harmonising activities.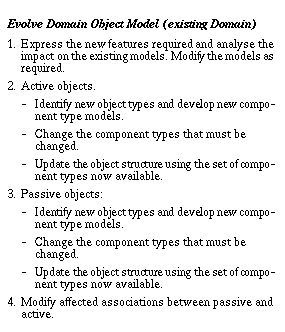 Summary of dynamic domain object model rules
Domain object modelling approach
Take the entities that a system must know about and possibly control as starting points for classes of objects.
If working with the domain alone is too abstract, consider in stead systems in the domain and try to generalises from them.
Classes of objects may very well be identified in a process where the required properties of a system are analysed. These may just be lists of requirements, or expressed in terms of Use Cases (MSC), preferably involving people representing the users and people being responsible for the required properties.
Switch between identifying attributes and relations between classes of objects, as it may be a matter of choice if a property is a relation or just an attribute.
Make component models
Take each of the classes and make a model that includes the most important classes of objects in the environment of this class. Identify the constraints on the classes stemming from this model.
Using domain object notation
For parts where the system Design object model is to be specified in SDL, the properties of SDL should be taken into consideration.
Examples: As it is known that SDL has single inheritance, it would be a bad idea to make a domain object model in UMLwith extensive use of multiple inheritance. SDL has a strong notion of real aggregation that depends upon which kind of objects to aggregate (services as part of processes, blocks/processes as part of blocks) - if aggregation is part of the domain object model it should take this into consideration.
Object classes with with attributes, relations and connections
If attributes are not known, just introduce the class. Include any relation or communication link that may be important - in the design activity these will be refined and detailed (or thrown away). Do not use too much time on signals on communication links, unless they are given from the domain statement.
Communication connections between classes indicates that there will be Interaction models between instances of these. For each of the communication connections check if this is important enough to call for Interaction models.
Relations
Do not be afraid to use illustrative relations, but be aware that they may have to be "implemented" during design.
Attributes
If the type of an attribute is not known, simply introduce the attribute without any type, or introduce the attribute type as a class - this will then be defined during design.
Aggregation
Use only real aggregation when it is obvious that this is the case. If in doubt, use relation aggregation, as this the most flexible.
Behaviour associated with the object model
This will mostly be in terms of Interaction models by use of MSC. If state information is important for the behaviour of an object, sketch an SDL process graph fragment for this part of the behaviour.
Localisation(nesting)
Do not consider this unless it is quite obvious. In case SDL is used for domain object modelling it will produce a set of packages of type definitions. These will mostly be independent of actual context. If domain modelling go so far as defining system and block types, then apply the general rules of localisation.
Developing domain property models
Objectives
To make domain property models.
To analyse the property models seeking to identify problems and find possible improvements in the domain (and thus in systems).
To keep the property models updated and in harmony with other descriptions.
What
Who to involve
The people to involve are the same as for domain analysis in general. However, in order to get the service properties right, it is important to consult actors in the domain, and in particular those that may become users of the systems.
What to do
Consider each of the active object types in all their different roles and describe, by means of role structures, text and MSC, what they need to do or need others to do for them. For each service, identify the roles or actors involved in role structures, and describe the collaborations using MSC.
Be sure to cover all general tasks where systems in the domain are involved. Consider also work situations and tasks to be achieved by means of the systems, i.e. consider a wider context of purposes than the systems in question.
As part of the Developing domain models activity this activity runs in parallel with Making domain object models.
The main inputs are the domain statement and the domain dictionary together with the object model developed so far and general domain and system knowledge.
Evolving domain property models
In this case the starting point is existing domain models and some requirements for new or modified properties. TIMe seeks to support property flexibility by promoting modular property models. However, undesirable interactions may occur between properties and they should be detected and resolved.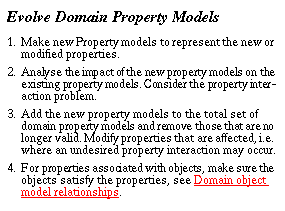 Summary of dynamic domain property model rules
Domain property modelling approach
Use the domain statement as starting point and consider the needs of all stakeholders.
Use the domain object model as starting point, and consider especially objects that are connected by communication links.
Make a Service List stating all the services (or functions) that needs to be performed and possibly may be supported by systems in the domain. Explain what each service does.
For each service, identify the object roles involved and as far as possible, which objects are the actors of the roles.
For each service, describe the most important Use Cases using MSC. Apply the guidelines of the MSC methodology.
Follow the MSC guidelines for the MSC part: see How to use MSC-92 effectively.
Follow the rule for MSC usage:
Rule for MSC usage
Identify all initiatives. For every initiative; describe the sequences that may follow until the next initiative. Use one MSC for each alternative .
Domain behaviour properties
Describe abstract (behaviour) properties in a way that eases composition into object behaviours and comparison with projections of object behaviour.
Motivation: ease of synthesis, quality by construction, ease of validation and verification.
Domain non-functional properties
Identify concrete (non-functional) properties that are relevant for the domain models, i.e. properties that any concrete system must abide.
If the system design is considered, look especially for properties that are inherent in the domain and describe them in a general way.