Overview of UML
UML can be used as a notation for Object Model in analysis and design when the formality of the SDL Object Model is not wanted. With UML you can represent different structures in a consistent and coherent way using object-oriented principles similar to those of SDL.
We use UML when SDL is not appropriate. Because it is less formal it can be used at an early stage to structure and analyse the concepts of an application domain before the functional design is made. In addition, it can be used to supplement SDL in the area of object modeling. SDL, for instance, does not support relations. The Object Models in UML can help you in your way from the description of the informal needs to a formal functional design in SDL.
This section will give a short introduction to the main elements and diagrams in UML.
UML have several different types of diagrams that can be used to describe a model from different point of views. These are:
UML by example
This section explain the use of UML in TIMe by means of an example for both domain analysis object modeling and design object modeling applied to the Access Control System example. For a short introduction to the example, see First Introduction to the example .
Domain analysis object modeling
The main objective of domain object modeling is to improve understanding and communication by rigorously describing how concepts and phenomena in the domain are related. This is done by defining objects and classes that represent the domain phenomena and concepts. The object model also serves the purposes of
In addition it should promote reuse by describing objects and classes that are common to most systems in the domain.
Based on a domain statement and a dictionary of terms, class/object diagrams which identifies the concepts and entities in the domain are made. One such domain diagram is illustrated in Figure 17 .
Use cases are used to identify the main system functions. Figure "Use case example of access control system" shows a possible use case for the Access Control System. The use cases are used as a basis to make interactions, that is sequence or collaboration diagrams. Figure "Sequence diagram showing access to an access zone" shows the use case described in Figure 9 as an interaction in a sequence diagram. Figure "A collaboration diagram showing user access" shows the use case in Figure 9 as an interaction in a collaboration diagram.
Contents of objects is only specified if it is a well-established fact in the domain; otherwise it is deferred to design object modeling. If contents of objects is to be specified, then composition can be used in order to specify a tighter part/whole relation than obtained with aggregation.
System analysis object modeling
System analysis involves the system as an object and considers its use environment. A system analysis produces a specification that covers those aspects of a system that are relevant for its external representation and use.
This is in TIMe done by so-called context specifications. Context specification can be made for any class of object, but for system analysis, the context of the system is the focus.
UML is used for this purpose by selecting the system as the primary class and then only consider classes of objects in the environment that the system has relations to or communicates with. Figure 18 is an example. The communication is shown with help of the navigability concept in UML.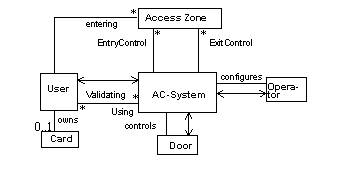 Sometimes parts of the contents of the system object may be important, the parts may then be included in the system specification.
In design object modeling it is especially the aggregation (composition) support of UML that is used in order to specify the contents of both the system and its part objects.
Applied to the system as such, aggregation of UML gives the contents specification in Figure 19 . Note that relations and connections are still used, even though we now have individual objects or object sets as endpoints.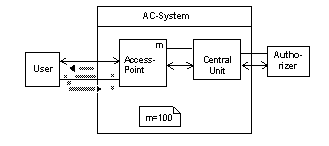 This design may be continued. Each access point is designed to contain three objects, one for handling the panel of the access point, one for handling the central unit and one for handling the door. This is specified by using composition, but now applied to the class AccessPoint, see Figure 20 .

Figure 21 and Figure 22 show two statecharts for the AccessPointís Controller class. Figure 21 shows the behaviour of the Controller class at an general level. The state "Validate access code" is a composite state. When the state machine enters this state the state machine "Validate PIN" (shown in Figure 22 ) is activated.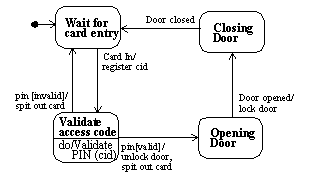 The state machine "Validate PIN" is shown in Figure 22 . Here it is shown explicitly that the signals/messages Authenticate and Authorize are sent to another object, namely the Validation object.